Best 10 Malayalam Short Novels: A Literary Journey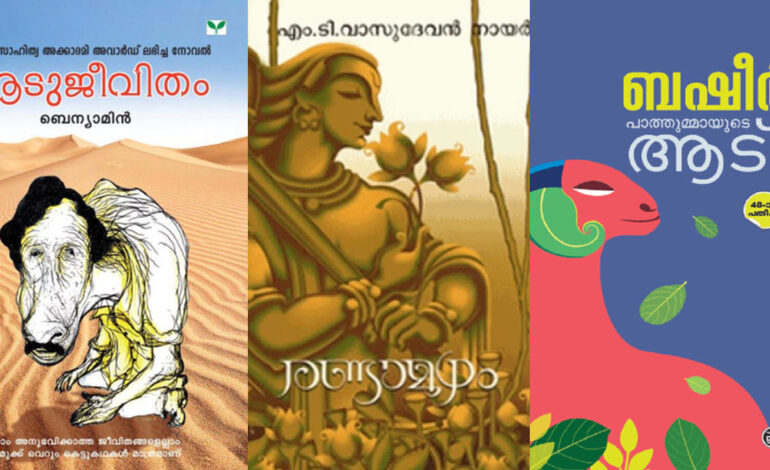 Introduction
Malayalam literature has a deep-rooted tradition of storytelling, with countless authors weaving tales that resonate with readers. In this article, we will take you on a literary journey through the best 10 Malayalam short novels. Each of these novels offers a unique perspective, vivid characters, and compelling narratives that have left a lasting impact on the world of literature. So, let's embark on this literary adventure and explore these masterpieces.
Exploring the Best 10 Malayalam Short Novels
Aatujeevitham – A Tale of Survival
Najeeb's Struggle for Freedom and Identity
Benyamin's Masterpiece
Aatujeevitham, written by Benyamin, is a remarkable tale of survival and self-discovery. This novel narrates the life of Najeeb, a migrant worker in the deserts of the Middle East, who finds himself in unimaginable circumstances. With its vivid descriptions and emotionally charged narrative, Aatujeevitham is a must-read for anyone seeking a gripping story of resilience and hope.
Randamoozham (The Second Turn)
Randamoozham – Reimagining the Epic
Bhima – The Unsung Hero
M.T. Vasudevan Nair's Magnum Opus
Randamoozham by M.T. Vasudevan Nair is a literary masterpiece that reimagines the Indian epic, Mahabharata, from the perspective of Bhima, the second Pandava. This novel delves into the psyche of Bhima, portraying him as a multifaceted character. It's a brilliant exploration of the epic's unsung hero and the complexities of his life.
Pathummayude Aadu (Pathumma's Goat)
Vaikom Muhammad Basheer's Heartwarming Tale
The Goat as a Symbol
Humor and Humanity in Pathummayude Aadu
Pathummayude Aadu, penned by Vaikom Muhammad Basheer, is a heartwarming novella that revolves around a goat named Pathumma. Through the lens of this seemingly simple story, Basheer skillfully addresses complex themes of love, relationships, and the human condition. This novella is a delightful read that will leave you with a smile on your face.
Balyakalasakhi (Childhood Friend)
Vaikom Muhammad Basheer's Iconic Love Story
Majeed and Suhra – Unforgettable Protagonists
A Tale of Love and Loss
Balyakalasakhi, another gem by Vaikom Muhammad Basheer, is an iconic love story set in the backdrop of rural Kerala. The novel follows the lives of Majeed and Suhra, childhood friends who navigate the complexities of love, society, and fate. Basheer's storytelling prowess shines in this emotionally charged narrative.
Thottiyude Makan (Thottiyude's Son)
P. Kesavadev's Social Commentary
The Struggles of Thottiyude's Son
A Window into Kerala's Society
P. Kesavadev's Thottiyude Makan is a thought-provoking novel that offers a glimpse into the social fabric of Kerala. The story revolves around Thottiyude's son and his struggles in a rapidly changing society. This novel serves as a powerful commentary on the challenges faced by individuals and families in a dynamic world.
Randidangazhi (The Second Turn)
Thakazhi Sivasankara Pillai's Magnum Opus
Kayar – The Epic Continuation
The Saga of Kayar and Freedom
Randidangazhi, the sequel to Kayar, is a literary triumph by Thakazhi Sivasankara Pillai. This epic continuation delves deeper into the lives of the characters from Kayar, exploring their struggles for freedom and justice. Pillai's storytelling prowess shines in this monumental work.
Manju (Mist)
M. T. Vasudevan Nair's Exploration of Youth
Kuttan and Meenakshi – Unforgettable Characters
The Beauty of Adolescence
M.T. Vasudevan Nair's Manju is a captivating exploration of youth and adolescence. The novel revolves around the lives of Kuttan and Meenakshi, two youngsters who navigate the complexities of growing up. Vasudevan Nair's lyrical prose and vivid characterizations make Manju a timeless coming-of-age story.
Nalukettu (The Ancestral House)
M. T. Vasudevan Nair's Exploration of Tradition
Appunni – A Complex Protagonist
The Legacy of an Ancestral House
Nalukettu, another masterpiece by M.T. Vasudevan Nair, delves into the world of tradition and heritage. The novel follows the life of Appunni, a complex protagonist, as he grapples with the legacy of his ancestral house. Vasudevan Nair's storytelling prowess and intricate character development shine in this classic work.
Khasakkinte Itihasam (The Legends of Khasak)
O. V. Vijayan's Surreal World
Ravi – A Wanderer's Tale
Exploring the Mystical Khasak
Khasakkinte Itihasam, written by O. V. Vijayan, is a surreal journey into the mystical land of Khasak. The novel follows the life of Ravi, a wanderer who seeks solace in the enigmatic village. Vijayan's poetic prose and the dreamlike quality of the narrative make this novel a mesmerizing read.
Chemmeen (The Prawn)
Thakazhi Sivasankara Pillai's Maritime Epic
Karuthamma and Pareekutty – Star-crossed Lovers
Love and Tragedy on the Coast
Chemmeen, penned by Thakazhi Sivasankara Pillai, is a maritime epic that explores the love story of Karuthamma and Pareekutty against the backdrop of the sea. This novel is a powerful portrayal of love, sacrifice, and the unforgiving nature of the ocean.